Yes. You can make premium payments in SGD via PayNow for your FWD policies (Future First, Recover First, Invest First, Invest Goal 1, Invest Goal X, Invest First Plus, Invest Goal Flexi, Life Income, Life Protection), purchased through financial advisers.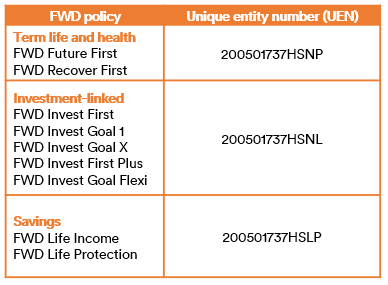 Please fill in the unique entity number (UEN), as referenced below, on PayNow according to the policy:
For easy reference, please also key in your policy number in the transfer details/reference number field. You can find your 8-digit policy number in the email that was sent to you after your policy purchase.